Extra, Extra, Read All About It - Miami Club's Latest Casino Jackpot Winners!
Aug 24, 2021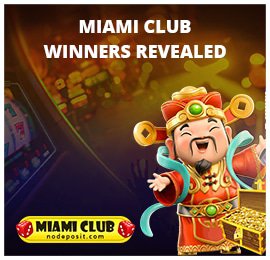 Miami Club Casino keeps a very detailed record of their Casino's latest jackpot winners, and we couldn't be happier reading about it. When reading about the latest casino winners, we always feel great, especially if they hit a very big jackpot! It's also a great incentive for other players, as it might show you that you too can see your name up on that list.
So, let's see what Miami Club's list of latest casino winners has to say and what are the available jackpot games in their library!
Miami Club - A Casino With An Impressive Library
Finding a casino that has a great game library is harder than one might think. Miami Club surely seems to know this as their game selection is stellar. Sure, it's not as extensive as some that we've seen, but what they do have - is excellent!
If you're a fan of the good old slots, then you'll be happy to hear that there's a lot to choose from at Miami Club! Whether you're a fan of 3, 5, or 7 reels with bonus features or just prefer the good old classic slots, Miami Club has you covered! There are also progressive jackpots where you can score some life-changing sums. Games like 7x Lucky 7s, Red, White, and Win, and Ultimate 10x Wild, to name a few, have just what it takes to make you a winner!
And, when you want to take a break from the classic slots, you can always check out the selection of table games, video poker, or specialty games. What's more, you can find games like Caribbean Stud poker or Blackjack that come with progressive jackpots too! There's a lot going on in Miami Club, so there's no doubt that you'll have a hard time choosing.
Latest Casino Jackpot Winners
We always love it when casinos keep a thorough and public record of all their latest casino winners, and this online gambling hub has quite the list. From the get-go, we were able to see that the biggest win they've had recently was close to $300,000 on the game Beat the Bank by Gail T.
The slot game Funky Chicken has also proven to be lucky for quite a few players as we saw multiple wins on it, with an average win of $20,479. The game Triple Triple Gold was just as lucrative for players, which rewarded Kasey R. with $19,440, and Alicia W. with $16,300. The slots weren't the only rewarding games on the list, as we saw Jerry H. cashed out $12,037 on Blackjack and Thomas K. $8,050 on 4 Hand Bonus Poker.
The list of the latest winners at Miami Club was quite extensive, and we invite you to see it for yourself. It's great motivation to try and put your name on the list soon! Who knows, you might just score the biggest Jackpot and find yourself on the top of the list.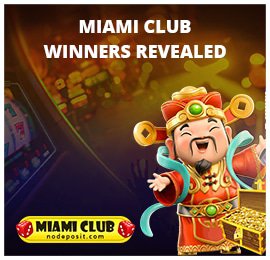 24 Aug 2021
Read All About Miami Club's 2023 Latest Casino Jackpot Winners. Find out which games were the most generous, what's the biggest win to date, and who won it!